CARE AND SHARE HOUSE
Use la pestaña en la parte superior de la extrema derecha para traducir a hispano.
Care and Share House is a free food pantry and free store for clothing and household items with two locations in Council Bluffs, Iowa. Care and Share House is a 501(c)3 non-profit organization supported by the Council Bluffs area United Methodist Churches. Care and Share House is operated totally by volunteers.  There is no paid staff.
                              To feed and clothe the people in need within our community                                   
while treating them with dignity and respect
  ***
Food pantries continue to be available at both locations during our regular hours during the coronavirus situation.  No  appointment is necessary.  No-contact procedures are in place to safeguard the health of clients and volunteers during this time.  
A full pantry will be provided.  Food pantry clients may enter the building at both locations, but FACE MASKS are REQUIRED.  A face mask can be provided.
*** During the COVID-19 situation, Free Store items at 1808 5th Avenue will be displayed outside for shoppers as weather permits due to limited indoor space. No face mask is required to shop outdoors at 5th Avenue.  The Free Store at 600 South Main is open to clients, but the number of shoppers and time to shop may be monitored and limited to insure the safety of our clients and volunteers.

 Masks are required to enter the Free Store at South Main.  A face mask can be provided.
***Care and Share IS ACCEPTING donations to the free stores at this time.
Volunteers and donations are welcome.
Monetary donations and donations of food, gently used clothing, and household items are always needed.
Checks may be made out to Care and Share House and mailed to PO Box 184, Council Bluffs, IA 51502.
Donations of food and clothing may be dropped off at either location during open hours.  Donations of food and clothing may also be dropped off at the 600 South Main location on Monday and Wednesday mornings from 9:00-10:30 a.m.
Please feel free to stop by either location to visit or to learn more about any of our programs.
Throughout the pandemic, Care & Share House has continued to serve our clients by offering free clothing, household items, and food pantries. Our current "yard sale" format allows clients to shop and place their food order as seen here at the 5th Ave location. If you or someone you know is in need, please stop by Monday and Thursday mornings from 9:30-12:00.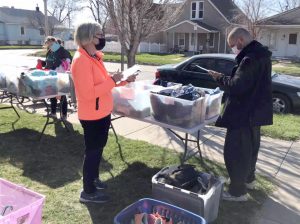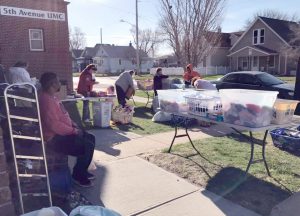 .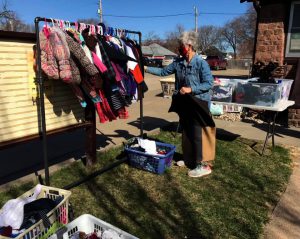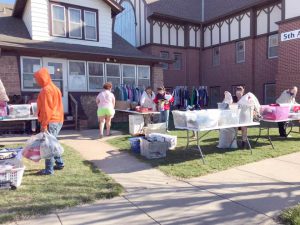 Looking back at 2021 and the impact made…
         2,263 HOUSEHOLDS in our community received FREE food pantries totaling 6,085 PEOPLE. 
Care and Share received 44.5 TONS of food from Food Bank for the Heartland at NO COST for distribution to individuals and families in our community.  These statistics do not not include the additional pounds of food received from individuals, food drives, churches, and community groups which were distributed throughout our community. 
The Free Stores also continue to be very busy with many, many people selecting clothes and household items at no cost. Numbers are not available for the Free Stores as people are welcome to just come in and shop and do not register or sign in to shop.
Care and Share can only make such an impact with the support of our community. THANK YOU!
Care and Share House receives a portion of our food from the USDA through the Emergency Food Assistance Program, also known as TEFAP.  No ID or additional information is required to receive TEFAP food(s) as long as you are under the monthly gross income limits.